Are you looking for inspiration for your bathroom design? You're in the right place!
If you're tossing between a small upgrade and full-scale renovation or simply daydreaming about a plush facelift, there are so many ideas to choose from for creating a modern bathroom. It's also worth staying up to date with the latest bathroom trends – especially if a renovation is on the cards at some point.
A custom bathroom design that meets your needs
Small as it is, the bathroom is perhaps one of the most used spaces in a home. You start and end your day there, which is why we've always considered it a top priority to have a stylish and appealing bathroom. As Sydney's #1 bathroom design and renovation company, we've put together some trendy bathroom design ideas that are stunning and completely achievable for most budgets.  
Whether you live in Sydney's Eastern Suburbs, Inner West or North Shore, here are some of the top bathroom ideas and design trends (click the links to jump to each section):
1. Timber Benchtops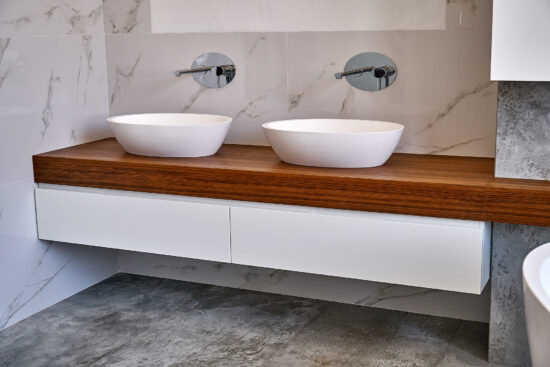 Once relegated to older, rustic homes, timber benchtops are making quite the comeback – this time in your bathroom. If you're looking for renovation inspiration and want to introduce a warmer feel to your bathroom, natural materials such as delicately crafted timber benchtops are a trendy choice. Not only are they practical, but they also add tremendous visual interest.
Keep in mind that some timber materials in Australia stand up to wet bathrooms better than others, so you need to be absolutely sure about what you're introducing for the best long-term value. For example, a bamboo bathroom benchtop is naturally water-resistant, which makes it a great material choice. It is also a renewable timber, so the plant continues to grow even after being cut, making it a visually excellent, environmentally-friendly choice. But, you will need to get the wood sealed to elongate its shelf life because of the excess heat and moisture in bathrooms.
We renovate bathrooms big and small with prices starting at $20,000.
✔ Get your new bathroom on time and on budget
✔ Deal with the professionals
✔ Quality you can trust
Call now for a personalised quote
2. Walk-in Showers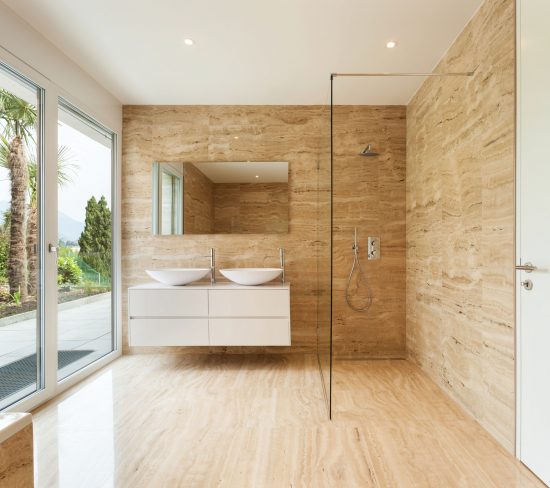 When it comes to modern bathroom design, you can't go wrong with a walk-in shower with no shower door. In fact, this is one of the top bathroom ideas popular with Sydney homeowners for the ensuite, main or guest bathroom. Giving your bathroom design a style makeover, walk-in showers (without a shower enclosure such as a glass door or french doors) create an open and contemporary look for bathrooms of all sizes, whether you are working with a small bathroom in an apartment or a master bathroom in a luxury home. The ability to walk straight into your shower gives the bathroom a seamless and uninterrupted flow while transforming your existing bathroom into a masterpiece of a modern bathroom.
The best part is that walk-in showers are easier to clean because there are no glass doors and large glass panels. Removing glass doors and shower screens also frees up more space in your bathroom, making it look less cramped and more open without a bathroom wall breaking the flow of the bathroom. Walk-in showers are a smart inclusion for your bathroom design if you live in Sydney, especially in new apartment builds where you often have a small space. They are an interior design trend that adds significant value.
3. Mosaic Feature Walls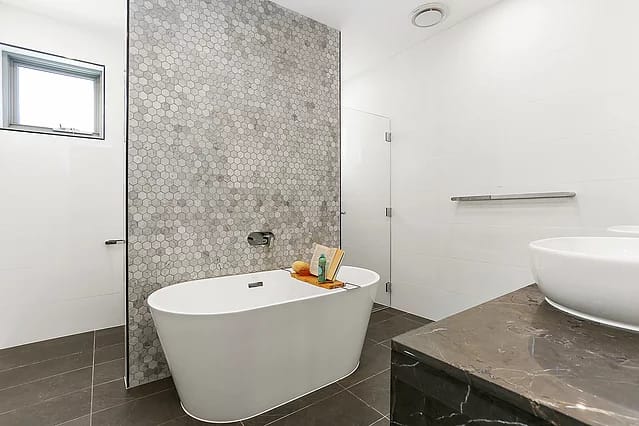 Nestled in the spotlight, you'll add a whole new dimension to your bathroom design with a tiled, mosaic or herringbone pattern feature wall in your shower or behind your vanity, sink area or freestanding tub. Whether you want to make a style statement or add a hint of glamour, mosaic tiles add remarkable visual interest with their chic design and the splash of creativity they provide.
If you want to be ultra-bold, shy away from traditional finishes in favour of trendier, contemporary features that incorporate different shapes, patterns, and textures – making your bathroom walls look visually stimulating and glamorous. There's no limit to the way you use mosaic feature tiles in your bathroom ideas and design, so explore what works best based on the character of your home and your personal preferences.
4. Freestanding Baths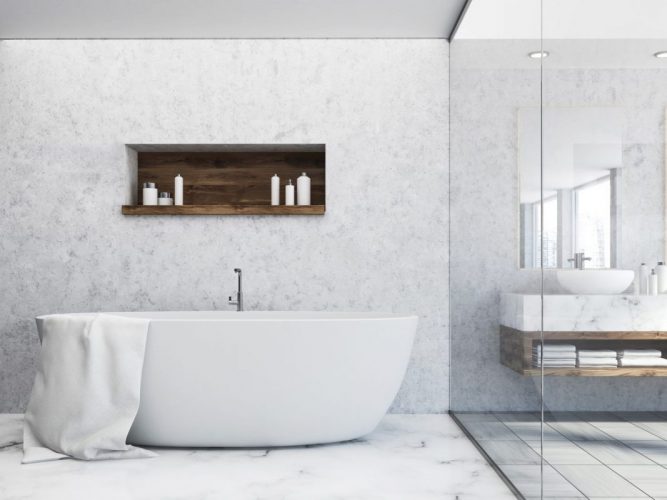 A freestanding bath is an exquisite focal point that brings the whole bathroom together. Blending seamlessly into your bathroom's design palette, a freestanding bath radiates luxe vibes and has the transformative power to create the appearance of a serene haven in the comfort of your home. A freestanding bath characterises a timeless appearance in any modern or vintage bathroom – one of the design ideas that is sure to dominate for years to come.
There's no doubt a luxurious freestanding bathtub will take you to dizzying heights of elegance – not just creating the 'wow' factor you're looking for but also increasing the value of your home. However, despite the visually inspired sophistication, there are certain installation practicalities that must be considered. Installation and placement require technical drainage and plumbing awareness, which is why it's always good to consult with a home renovation professional before identifying if this is best choice of the modern bathroom design ideas to implement in your house.
5. Wall-Hung Vanities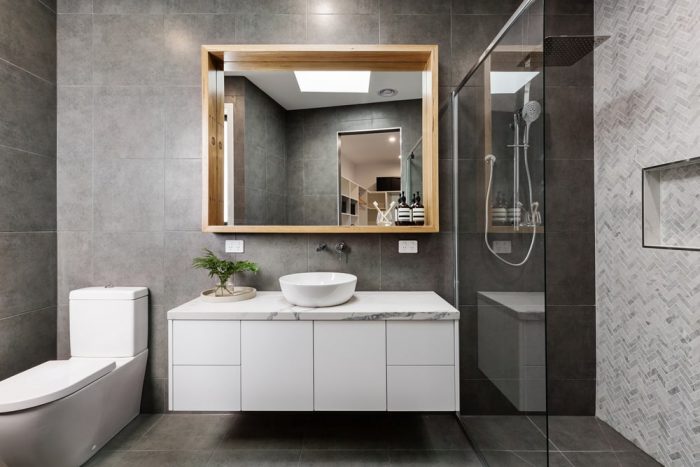 A wall-hung vanity crafts an inspired minimalistic look that emphasises the beauty of an uncluttered modern bathroom. Adding a wall-hung vanity creates the impression of a larger room because it draws the eye all the way from the tile floors to the ceiling without interruption. This makes them perfect for small bathrooms or a master bathroom that benefit from the perception of more space.
Their clean lines and sleek finishes are amplified by the subtleness of inset or under-counter basins – creating a seamless and aesthetically pleasing appearance. Wall-hung vanities are a popular feature of many bathroom designs in Bondi apartments because of their space-saving value and decorative appeal. A wall-hung vanity delivers a chic look and cleverly hides your beauty products, but thorough planning is paramount to getting it right.
6. Skylights
Skylights have many benefits similar to windows, and are the perfect addition if you're looking to increase natural light and create a sense of space in your bathroom. The eye-catching centrepiece of many bathroom renovations in the Eastern suburbs and throughout Sydney, a skylight adds dramatic flair and provides a seamless connection to the outdoors.
Skylights are also popular in Bondi bathroom renovations as they can improve natural lighting, where there's often limited illumination from the windows with densely packed houses and units, resulting in darker rooms.
Diverse in shape, size, and framing, skylights can easily be tailored to the specific needs of your bathroom. By making use of a roof opening that envelops the room in natural lighting, you minimise the need for artificial lighting, which is energy-efficient and saves money in the long-term, for the homeowner. Creating a unique, minimalist look, that brings you one step closer to nature, you can easily open up a smaller, darker room to make your bathroom brighter and less crowded with a skylight.
7. Spa Baths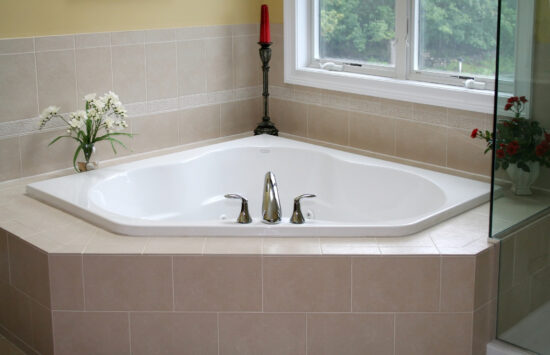 It's always nice to feel pampered, but you don't need to wait for your next luxurious spa visit when you can create your own tranquil retreat. A luxury spa in your own bathroom can help to reduce stress, which in turn promotes good health and wellbeing. Relaxing your body can lead to a relaxed mind. Everything works together to establish a comforting and harmonious environment that delights the senses and soothes the soul.
First things first, one of the most important elements that inspire a spa feel, is the bathtub. Luxuriate amongst the suds and bubbles of a soaker tub. There are lots to choose from, including freestanding tubs, drop-in bathtubs, clawfoot bathtubs and whirlpool bathtubs with lights. If your layout allows for it, position the spa bath by a secluded window that offers a view. But don't just leave it at the freestanding tub; install a separate shower unit, such as a large walk-in shower with a rain shower head, built-in bench and opulent wall spray jets.
8. Gold Fixtures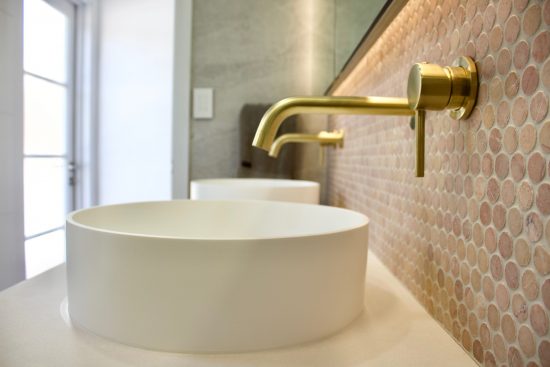 If you're looking for colour as part of your bathroom design ideas, gold never goes out of style and gives a sense of wealth and luxury to any area where it is being added. Gold sink fittings, walls, hardware, ceilings and tiles, these gold features will make your main bathroom sparkle and shine and look like something straight out of an interior design magazine.
The important thing to note here is to be sparing with how much gold you implement, as small upgrades make a big impact. Discover how a few gold-painted features are all that is needed for an elegant, inspired look. For example, gold taps, a gold accent wall, gold frames for your mirrors, a piece of gold furniture, gold handles for your cabinets, or gold tiles for your shower enclosure are a fun way to compliment the neutral tones of the rest of your bathroom palette.
Rose Gold Accents
Another luxury bathroom renovation idea is a plated rose gold colour scheme for accessories, such as rose gold taps, sinks and toilet seat covers. This is a great addition to an art deco inspired bathroom reno. Rose gold is a blend of pure 24 karats yellow gold, copper and silver. One of the first people to use Rose gold (also known as Russian gold) was jeweller Carl Faberge when he created his famous Faberge eggs in the late 19th and early 20th centuries.
9. Backlit Mirrors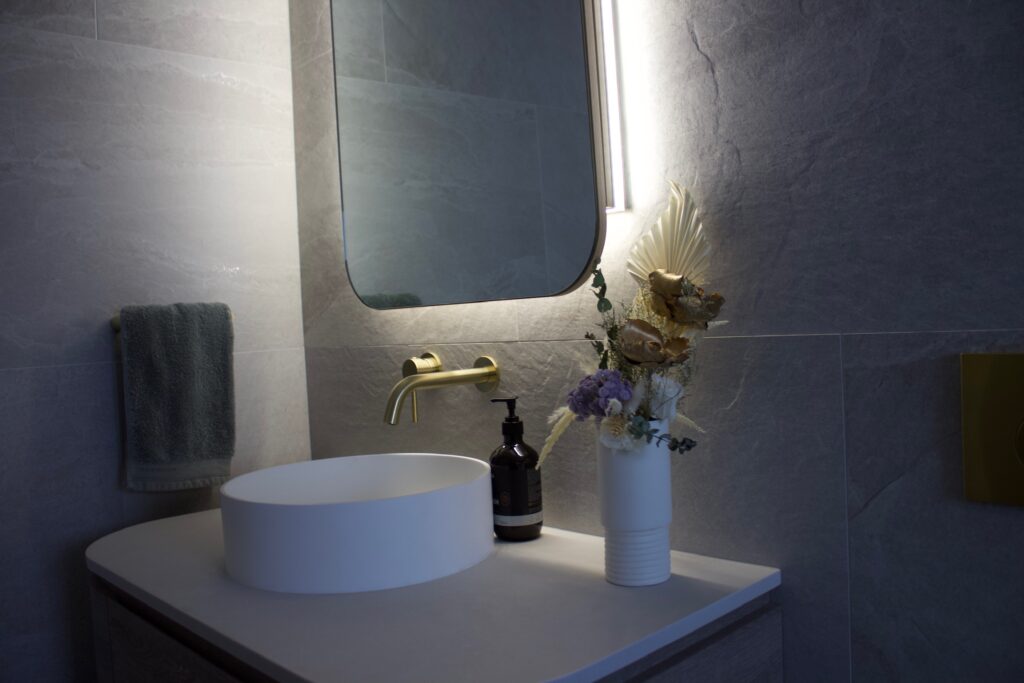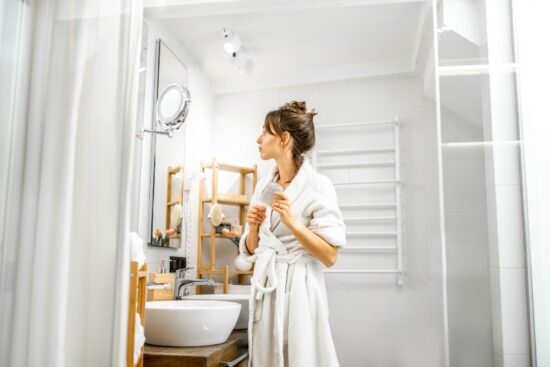 If you've recently completed bathroom renovations or are planning to, then appliances can sometimes be overlooked. However, there are plenty ...
Read More

→
The inclusion of a backlit mirror in modern bathroom design, is a very popular trend, used by interior designers to increase the luxury feel of a bedroom or restroom. Backlit mirrors are an ambient feature that exude elegance in the humblest of powder rooms.
Light fixtures behind a mirror enhance the look of a vanity as well. Whether you have a custom vanity or a store bought one, the appearance of it will be greatly affected by the lighting. The lighting around a mirror is crucial in providing warm tones and soft light, which in turn promotes an enhanced reflection, which anyone and everyone would appreciate.
The size and shape of the chosen mirror needs to compliment the overall design of your modern family bathroom. If you have a narrow area to work with, backlit mirrors that are laid vertically also enable an area to look longer. Alternatively, if you have a double vanity, you could place two identical backlit mirrors side by side to accentuate your double vanities.
10. Slip Drains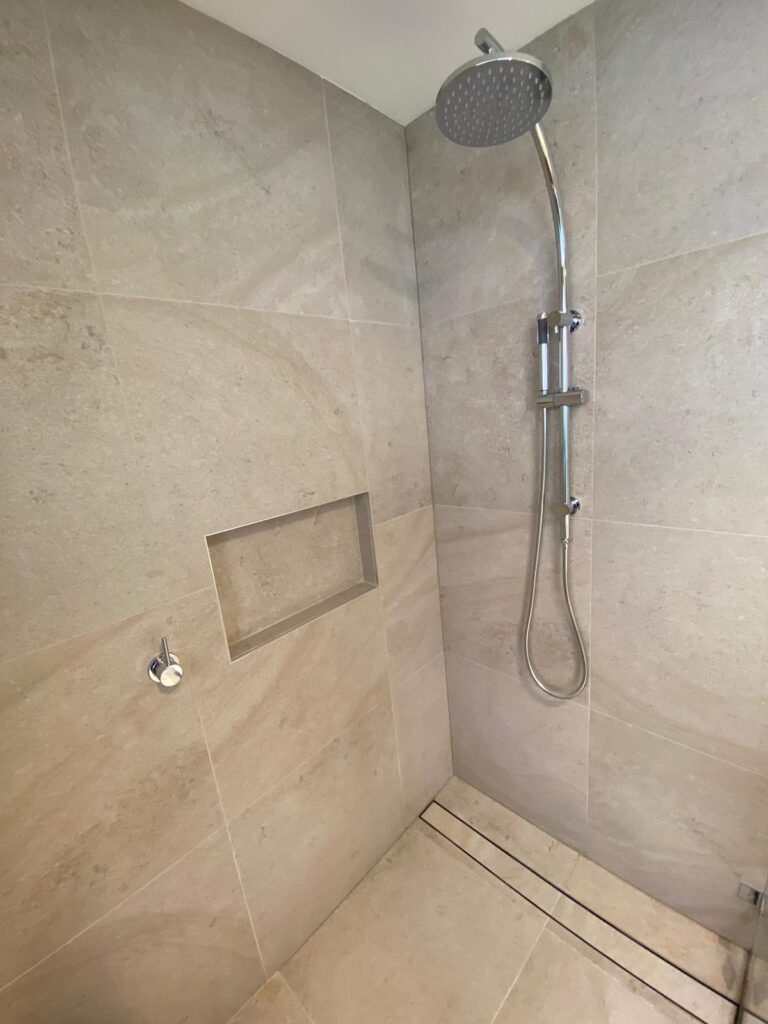 Drains are not usually a feature of bathroom design, however slip drains are a popular trend, used to be a complimentary feature of modern family living. Especially prevalent in areas with tiled floors, slip drains can be situated at the centre of a room but are commonly placed along the wall of a shower.
A big benefit of slip drains over conventional drains is that larger floor tiles can be used, fitting seamlessly with any size of floor tiles, this style of drain is subtle on the eye and doesn't stand out as much as conventional drains.
Strip drains also make the floor tile design more appealing, since the drain lines are parallel to the tiles, and there isn't a large circular hole interrupting the flow of your bathroom design.
11. Heater Modules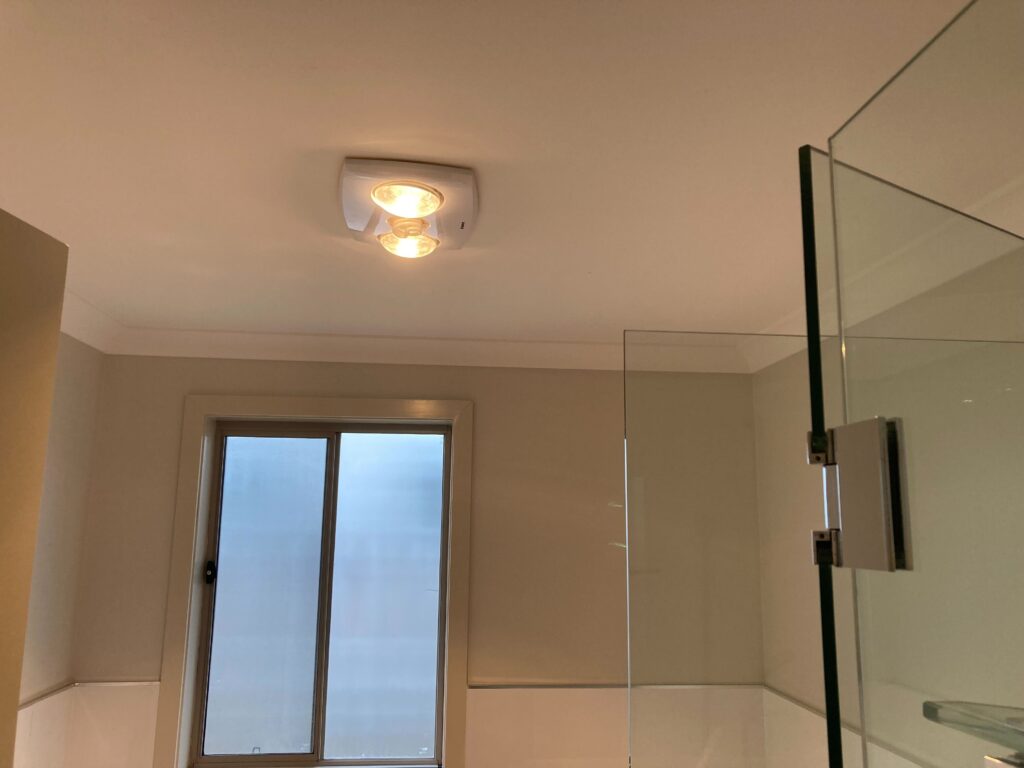 A good quality, energy-efficient heater module will satisfy all the senses. No matter how stunning your bathroom is, if you aren't comfortable using it, you won't get the most out of your investment. Especially in the cool months, Sydney mornings can get pretty chilly, and just like the comfort of a fireplace in an old house, heater modules offer the comfort of warmth, conducive to complete relaxing. When you think about how often a master bathroom is used, it is a good investment to make it comfortable and inviting.
One thing to note is the move away from the conventional 3-in-1 heater/fan/light module. These modules are less effective than modules designed solely as a heater. Stylish lighting in the form of downlights or backlit mirrors are preferred over 3-in-1 modules due to their versatility and placement, in modern bathroom designs.
12. Heated Flooring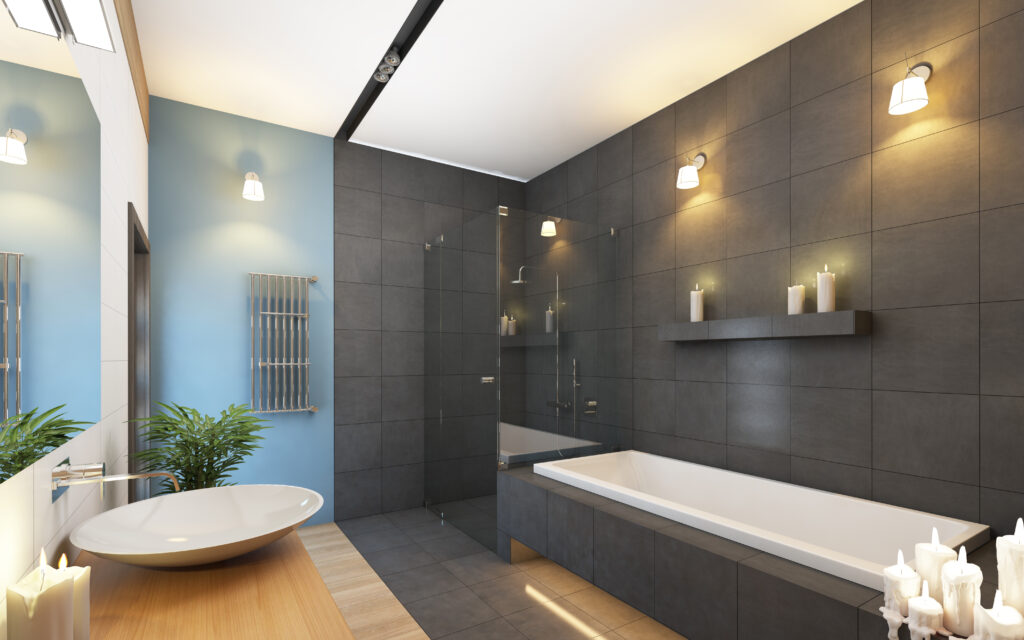 Nothing screams modern bathroom design more than a heated floor in a master bathroom. To paint the picture of utmost comfort, heated flooring is an investment that will bring great returns for decades. Once the floor is removed in the early stages of renovation, and the subfloor is exposed, you have the opportunity to install heated flooring. Tiled flooring or stone bathrooms are renowned for being cool to touch, these types of floors benefit most from installed heating solutions.
There are two types of heated flooring systems, electric and hydraulic, speak to our team of experts in bathroom interior design, to find out which one of these heater flooring styles best suits your needs and budget.
13. Heated Towel Rack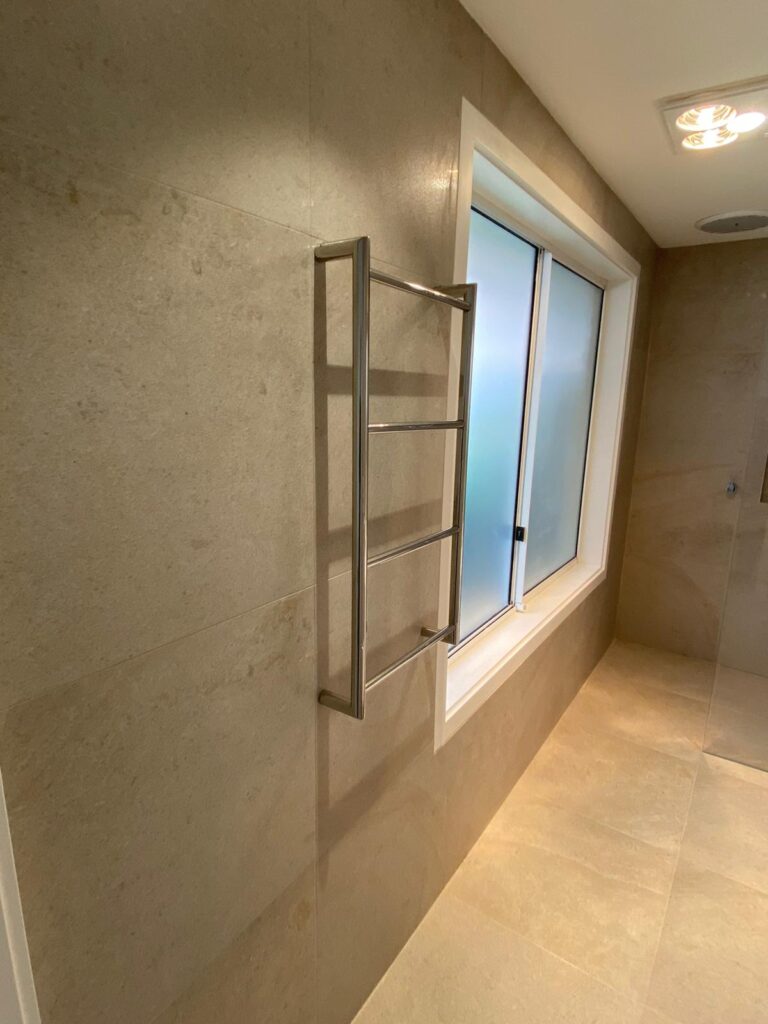 Along the same theme as the above comfort measure, installing a heated towel rack will go that extra mile to bring comfort and pleasure to everyday life. These thoughtful accessories that bring about a sense of complete comfort in a bathroom will be the determining factors between a room that looks stunning and one that feels and looks like a dream. Towel racks provide the obvious place to put your towels as well as providing storage for your clothes, and why not gently heat them at the same time?
14. Double Shower Head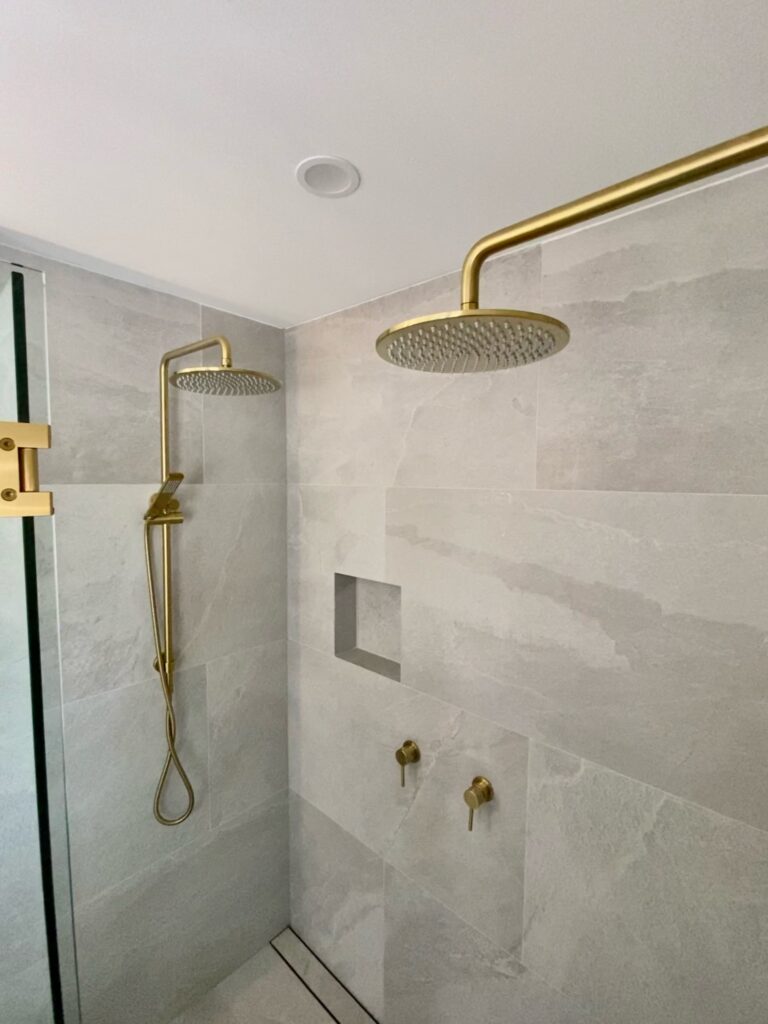 Comfort meets practicality with double showerheads. There are two ways showers can be doubled up: one is to have two parallel shower heads in a modern bathroom, and the other is a two-in-one set up of a dual shower head comprising of a fixed shower head and a handheld shower head. These can even be combined as shown in the photo above. Either way, having two shower heads is a great bathroom design feature enclosed with seamless shower doors.
Both types of double shower heads are most common in main bathrooms as opposed to ensuites, this is because of the functional benefit as the main bathroom is usually used more often and by different individuals who have different needs and preferences. Regarding the functionality of double shower heads, the water pressure is something to factor in, which is why you need an interior designer with renovation experience.
15. Floor to Ceiling Tiles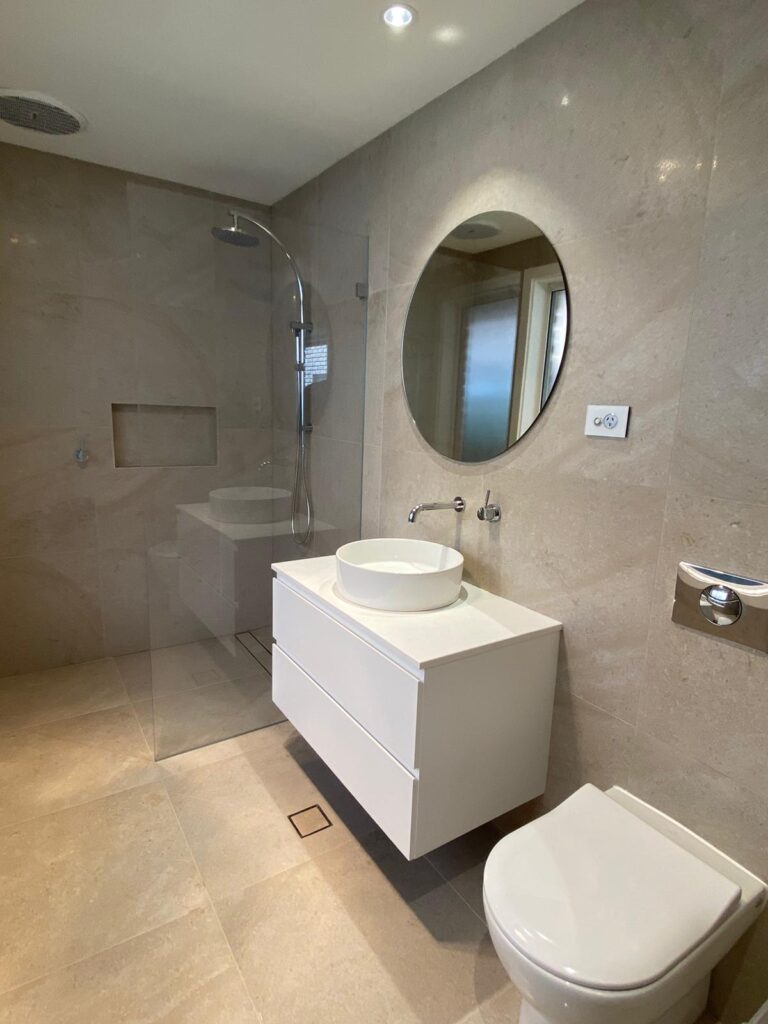 If you are after the 'wow' factor, consider tiles that continue from your floor, on the wall and up to the ceiling, in your renovation plan. The 'bigger is better' approach to tiling works with various tiles in different colours and textures, whether you choose a neutral tile, alpine white tiles, marble tiles, or classic black tiles. Subway tiles have been a longstanding favourite in Sydney homes, however recently, homeowners have opted for larger tiles over the subway tile look. Gone are the ways of bright wallpaper cluttering areas; a seamless continuation from the floor to the ceiling with stunning tiles is the modern trend taking Sydney by storm.
16. Premium Light Switches and Power Outlets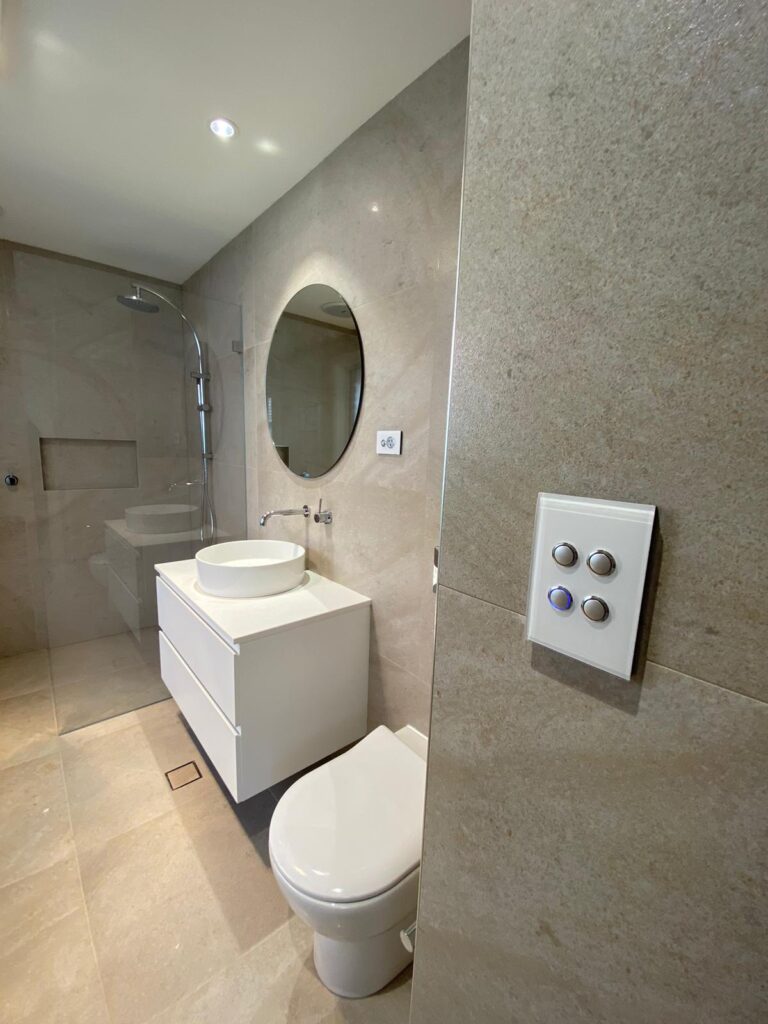 You've invested this much in your modern bathroom; finish the look with premium light switches and power outlets on your walls. The premium switches and outlets don't have to come with a hefty price tag, it is about matching them to the rest of the fixtures. Instead of the standard light switch, the premium styles are more like buttons, some with the added functional value of being able to dim the lights. If your theme is a timeless white bathroom with white walls, opt for white plates, but there are other options to suit a range of styles, including metal plates and glass look plates, and even boast a range of rounded edges complete with wooden edging if this suits your style.
How You Can Implement These Inspiring Bathroom Ideas In Your Home
Despite how often we use our bathroom, it often tends to be one of the most neglected areas of our home. That's because of the misconception that renovating a bathroom will have a big price tag. It doesn't have to be like that!
If you need help to freshen up your bathroom design, at DCON Group, we can do as much or as little as you like – providing excellent workmanship and high-quality fittings to suit your needs and budget. Whether you need a simple tile floor or a huge transformation, we believe your bathroom is your personal retreat. We can help you find practical, inspiring ideas to make your bathroom feel brand new and transform it into your favourite part of the house.
The ultimate cost of your bathroom renovation depends on several factors such as the size of your bathroom, whether any structural changes are required, the quality of materials and fittings used and just how lavish you want to be.
Get your free quote today!